miles & mar's devotional - volume xxiv 
Ever had to call in to tech support for a computer problem? 
Yeah, I thought so. 
Probably after a lengthy wait, (I wonder how long I would be on hold if my call wasn't important to them…) they begin to run a series of test to see where the issue is in order to diagnose the problem and you just pray that it's something that doesn't require a complete overhaul. 
As I read through 2 Corinthians, I realize that's exactly what Paul is having to do with the 'First Church of Corinth.' Paul loved this church, even called them saints in the first letter, but it was a church that was situated in an extremely dark part of the ancient world full of unrestrained sin and idol worship. All the trade and commerce north, south, east, and west, came through this city. It was a cesspool of immorality, lewdness, and debauchery. Their old habits of pleasing the flesh brought about questions as to which of them were genuinely in the faith and which of them were just putting on a show. 
2 Corinthians 12:19 - 13:2 
Have you been thinking all along that we have been defending ourselves to you? It is in the sight of God that we have been speaking in Christ, and all for your upbuilding, beloved. For I fear that perhaps when I come I may find you not as I wish, and that you may find me not as you wish—that perhaps there may be quarreling, jealousy, anger, hostility, slander, gossip, conceit, and disorder. I fear that when I come again my God may humble me before you, and I may have to mourn over many of those who sinned earlier and have not repented of the impurity, sexual immorality, and sensuality that they have practiced. 
This is the third time I am coming to you. Every charge must be established by the evidence of two or three witnesses. I warned those who sinned before and all the others, and I warn them now while absent, as I did when present on my second visit, that if I come again I will not spare them— since you seek proof that Christ is speaking in me. 
So, here is this church that has been giving Paul great joy and great sorrow. Now he demands that they produce evidence of what they claim. 
2 Corinthians 13:5-10 
Examine yourselves, to see whether you are in the faith. Test yourselves. Or do you not realize this about yourselves, that Jesus Christ is in you?—unless indeed you fail to meet the test! I hope you will find out that we have not failed the test. But we pray to God that you may not do wrong—not that we may appear to have met the test, but that you may do what is right, though we may seem to have failed. For we cannot do anything against the truth, but only for the truth. For we are glad when we are weak and you are strong. Your restoration is what we pray for. For this reason I write these things while I am away from you, that when I come I may not have to be severe in my use of the authority that the Lord has given me for building up and not for tearing down. 
I dare say most modern day church analysts would say that questioning the salvation of people, openly judging what they are doing as sin, promising to remove them from the church if they persist in their sins, and threatening to use severe authority from God to deal with them is NOT the fastest way to build church attendance. 
But notice what Paul says it's for… "for building up and not for tearing down." Paul is strong in his stance and firm with his approach because he is concerned about this church possessing an authentic faith that is demonstrated by fruit bearing. 
You ask your average person on the street if they are a Christian, and many people will answer 'yes.' 
Why? Because they…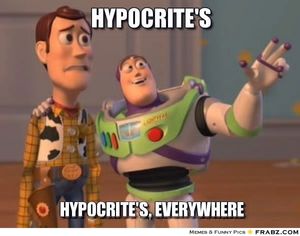 Have Christian principles. 
Attend a church. 
Are members of a religious group. 
Have walked an aisle at some point. 
Repeated a prayer after some preacher. 
Were baptized. 
Think it's good for community. 
Wanna set a good example for the kids. 
All these, and a myriad of other flimsy reasons. 
But listen to what James says: 
James 2:19 
You believe that God is one; you do well. Even the demons believe—and shudder! Do you want to be shown, you foolish person, that faith apart from works is useless? 
If belief alone is the measure of salvation then all the demons and Satan himself are saved. This is obviously not true and therefore is not the measure of legitimate, saving faith. 
Just before that verse in James 2 he says… 
What good is it, my brothers, if someone says he has faith but does not have works? Can that faith save him? If a brother or sister is poorly clothed and lacking in daily food, and one of you says to them, "Go in peace, be warmed and filled," without giving them the things needed for the body, what good is that? So also faith by itself, if it does not have works, is dead. 
But someone will say, "You have faith and I have works." Show me your faith apart from your works, and I will show you my faith by my works. 
So what are you to 'examine' to see if you are in the faith? 
Works. 
We must be very careful here because it is a cardinal doctrine of all orthodox Christian belief. You are not saved by works. It's impossible. But after salvation, works are and must be a byproduct. 
Titus 2:14 
Jesus Christ gave himself for us to redeem us from all lawlessness and to purify for himself a people for his own possession who are zealous for good works. 
For further explanation, consult John 15:1-11 
Being able and willing to honestly reevaluate your life periodically as a Christian is a sign of authentic spiritual life. You cannot simply look at an event in the past to evaluate your spiritual condition. What about today? How has it affected you over the years? How do you live differently this month as opposed to last month because of your change of heart? What do you love? What are your priorities? 
I'm going to give you five fruits of authentic faith or rather, five works that you can look at. These are not the specific fruits listed in scripture, but are broad categories, meant to help you quickly examine where you are. 
1. Contrition 
1 John is a litmus test for those who profess Christianity. Right off the bat he gives these tests. 
1 John 1:5-10 
This is the message we have heard from him and proclaim to you, that God is light, and in him is no darkness at all. If we say we have fellowship with him while we continue to walk in darkness, we lie and do not practice the truth. But if we walk in the light, as he is in the light, we have fellowship with one another, and the blood of Jesus his Son cleanses us from all sin. If we say we have no sin, we deceive ourselves, and the truth is not in us. If we confess our sins, he is faithful and just to forgive us our sins and to cleanse us from all unrighteousness. If we say we have not sinned, we make him a liar, and his word is not in us. 
John identifies three people here: 
1. The one who claims to walk in the light and then bears it out by forsaking the practice of walking in the darkness and thus emulates Christ. Notice that the one who is practicing the things of light is also at home with the Body of Christ -- "fellowship with one another." 
2. The one who claims to be perfect after salvation. Hard to believe that those people exist, but we've met them. 
3. The one who claims to have never sinned. Yep, these folks exist too. 
It strikes me that neither John or any other writer of the scripture ever assumes a point in the Christian life where we stop repenting, being contrite, being penitent, being remorseful, being aware of our shortcomings, and THEN…doing something about it. It's easy to get outraged at other people's sin, but your reaction to your own personal sins are a better barometer of your spiritual condition. 
2. Imitation 
You will be like what you love. Pretty simple. 
When you become a Christian it's not enough to turn from something, you must turn to someone. What does it mean to be a Christian if it does not mean to be like Christ? 
1 John 2:29 
If you know that he is righteous, you may be sure that everyone who practices righteousness has been born of him. 
If you are born of Christ and are His child, then you will of necessity exhibit traits of your father. You will not just hate sin, but you will love righteousness. You will love what God loves and hate what God hates. A lot of people dislike certain sins because of the pain it causes or its consequences. Not as many people rejoice when righteousness is done. 
3 John 1:11 
Beloved, do not imitate evil, but imitate good. Whoever does good is from God; whoever does evil has not seen God. 
As we have seen in this current cultural climate, people can with words claim to be a plethora of things that just may not be based in fact. If you claim Christianity, then prove it by imitation. 
3. Submission 
Are you willing to lay your will, desires, passions, plans, and pleasures down at the feet of Christ and submit to His desires? Are you willing to chase after His passions? Are you content with whatever His plan is for you? Do you long to do what will please Him? 
Luke 14:25-27 
Now great crowds accompanied him, and he turned and said to them, "If anyone comes to me and does not hate his own father and mother and wife and children and brothers and sisters, yes, and even his own life, he cannot be my disciple. Whoever does not bear his own cross and come after me cannot be my disciple. 
We are obviously commanded to love our neighbor, honor our father and mother, to take care of our children, to love our wives as Christ loved the church, but in comparison with Christ…with our love for Him...all other loves fall to the bottom. 
It is in our submission to Christ and submission to His authority that he's placed in his Church, the authority in government, and the authority in the Biblical structure of the home that we prove our willingness to humble ourselves before God. 
4. Obedience 
John 14:15 If you love me, you will keep my commandments. 
James 1:22 Be doers of the word, and not hearers only, deceiving yourselves. 
God desires obedience more than sacrifice. Just because you give your Sundays to church, donate to the local charity, and tithe doesn't necessarily tell us anything about your spirituality. Works based religions all over the world have millions and billions of adherents that do the same kind of things. 
The real tests of faith come when you must decide whether or not you will obey Christ when it's hard? When it's not convenient? When it's uncomfortable? When it's not what you feel like doing? When it doesn't seem to make sense to you? Do you obey or make excuses? 
1 John 3:24 Whoever keeps his commandments abides in God, and God in him. And by this we know that he abides in us, by the Spirit whom he has given us. 
5. Affection 
What has your affection? What do you love? 
1 John 2:15-17 Do not love the world or the things in the world. If anyone loves the world, the love of the Father is not in him. For all that is in the world—the desires of the flesh and the desires of the eyes and pride of life—is not from the Father but is from the world. And the world is passing away along with its desires, but whoever does the will of God abides forever. 
What world are we talking about? Even God 'so loved the world.' The 'world' in this case doesn't mean the cosmos, the physical natural universe, but rather the world system. Paul was brokenhearted in 2 Timothy because a close friend proved to love the world more than Christ… 
2 Timothy 4:10 For Demas, in love with this present world, has deserted me and gone to Thessalonica. 
1 John 3:17 But if anyone has the world's goods and sees his brother in need, yet closes his heart against him, how does God's love abide in him? 
This is a manifestation of the world's goods owning you instead of you owning them. You love the things of the world more than your fellow man. If the love of Christ does not compel us to part with temporal things when someone else has need of them, then we are trying to serve two masters. 
I don't know where it could be stated more clearly than here… 
James 4:4 You adulterous people! Do you not know that friendship with the world is enmity with God? Therefore whoever wishes to be a friend of the world makes himself an enemy of God. 
---
Where do we stand in light of these tests? 
---
Have we really repented and mourned over sin? 
Or do we just regret the consequences of sin? 
Do we love God's law and desire to live by it and grieve when we transgress it? 
Or do we view it as mere legalism — a weight around our neck and a killjoy? 
Do we submit to the authority of Christ and consider what His desires are before we do our own? 
Or do we make sure that our wants are fulfilled before we give God any of our time? 
Do we obey His word and study it to discover His will for us? 
Or does His word not really interest us and given the choice between studying and memorizing the Scriptures or watching TV, we choose the TV? 
And do we love those who are in His church? Do we give of ourselves freely to serve others? Have we begun to love our enemies and seek their good? 
Or do we love those who love us and give to those who give to us and scratch their back if they scratch ours? 
---
The true convert falls into sin. 
The false convert dives into sin. 
The true convert sins against his will. 
The false convert makes provision for the flesh. 
The true convert stumbles. 
The false convert is dead. 
---
Whoever you are, we encourage you to take a moment and run this diagnostic test. We pray with Paul that you will meet the test -- that you will be found to be standing firm in Christ. 
In Christ, 
M&M