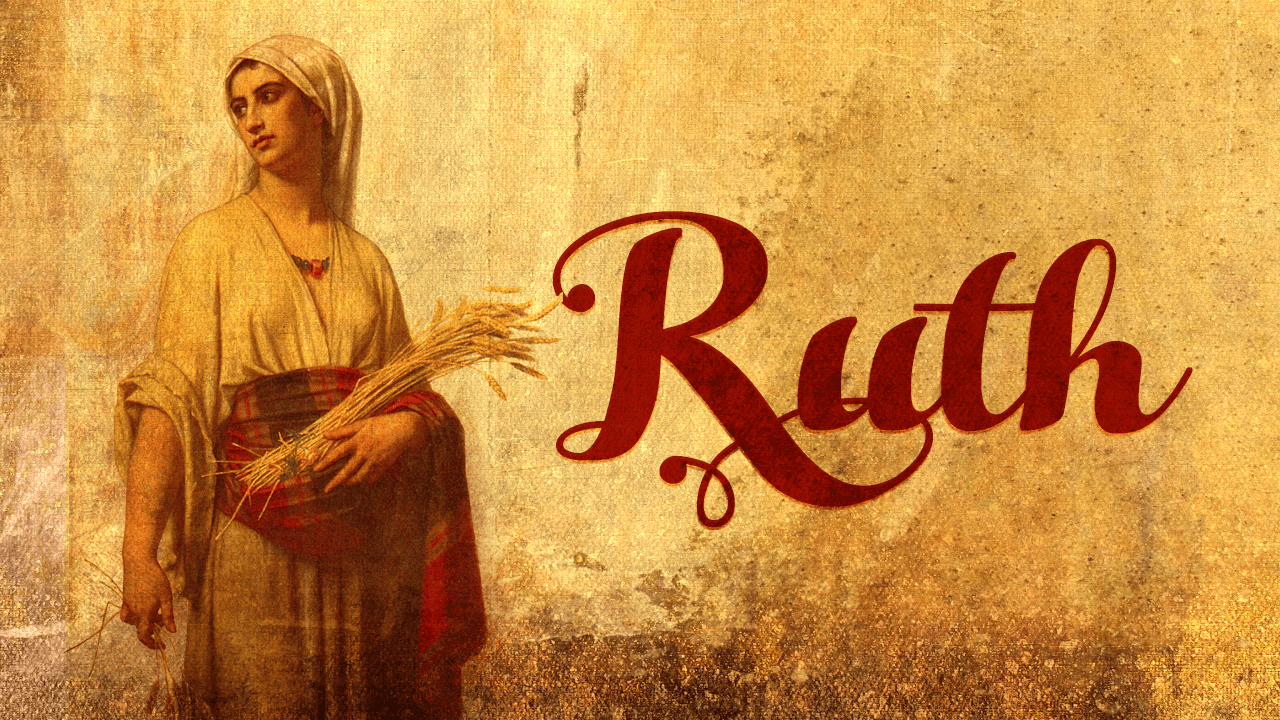 At the wedding of my brother-in-law recently, it was requested that I speak from the Book of Ruth. Having not read it in a while and not heard many in-depth sermons from it, I went into it thinking that I was going to be hard pressed to find more than just the iconic verse that said something about "where you lodge I will lodge." Instead I found a wealth of applicable material and had to pare it down substantially. 
For those who may be not be familiar with the story or for those who may have not heard it in a long time, let me give you a quick breakdown. 
The estimated time of this writing is approximately 1300-1000 B.C. There was a famine in the land of Israel and Elimelech, a man from Bethlehem, took his wife Naomi and their two sons to Moab while they waited for the drought to pass. While they were there their sons took Moabite wives. 
One of those Moabite wives was Orpah, not to be confused with Oprah…the other one was called Ruth. 
So far this may not mean much to us, but take note of who the Moabites were. This people was produced when Lot, the nephew of Abraham back in the book of Genesis, fathered Moab through an incestuous union with his oldest daughter. They were idolatrous, brutal, scheming enemies of Israel for generations. Not a good start and not an honorable history. This marriage of their sons to Moabite women would have left this family shamed in their homeland because they mixed bloodlines with this unclean, Gentile people. 
Then the story takes a tragic turn. Naomi's husband dies, followed shortly by her two sons leaving her not only widowed, but childless. In that day an older woman who had no husband and no sons to provide for her had basically been given a death sentence or at least had to resort to begging and dependance on the pity of strangers. Naomi decides to return to Bethlehem, having heard that the famine is past, and her two daughter in laws accompany her some distance. Knowing that she can offer the young women nothing, Naomi urges them to return to their own people. 
Orpah ultimately decided to return to her own family, but even with Naomi urging Ruth to also return to what would seem to be a more hopeful existence in her own homeland, Ruth clings to her and says these iconic words, 
---
"Do not urge me to leave you or to return from following you. For where you go I will go, and where you lodge I will lodge. Your people shall be my people, and your God my God. Where you die I will die, and there will I be buried. May the LORD do so to me and more also if anything but death parts me from you." 
---
This is another dramatic turn. Rather than returning to her own family, country, culture, and comfort, Ruth now makes a profession of faith in God Jehovah, stays with Naomi, and becomes a proselyte to Judaism. 
Naomi and Ruth return to Bethlehem in poverty. Ruth began to pick up the scraps of barley from the edges of the field of a wealthy man named Boaz, an unmarried relative of Naomi's husband, Elimelech. The Bible calls him a worthy man and he showed kindness to Ruth. Beyond the basic charity that God's law required of him, he offered provision, protection, and partiality to this woman who was an outsider. 
I would encourage you to read this story for yourself because of the depth of detail and beauty that I had to leave out, but Boaz, as God would orchestrate it, became Ruth's "kinsman redeemer." In essence, this meant in their situation that when she came to him for help as her relative, he married her, and in doing so, he rescued her from a life of poverty as a widow and stranger in the land. 
I would pass up a great opportunity if I didn't point out that after their marriage, Boaz was no longer a ruthless man. Ok. Opportunity taken. Moving on... 
There were five things that really stood out to me as I studied this passage for Dan's wedding. 
1. God has a plan for Gentiles 
Chances are, if you are reading this, you like me, are not Jewish by birth. Let us stop to be amazed and evermore thankful for the inclusion of Gentiles into the divine plans of God. We are here today as Christians because God's plan of salvation is open to us! God was able to use and work through people who were from the lineage of the idolatrous Moabites and maybe He can find a place for me too. 
2. God has a plan for women 
Let us also be amazed at the historical context of the Scriptures as they make much of women. In a culture where women were little more than chattel and so demeaned that their testimony was not even admissible in court, the Bible makes Ruth and even Rahab (Boaz's mother, a redeemed prostitute - check out her story in Joshua 2 and 6) not only fellow heirs of grace, but intricate parts of His plans for the saving of His church. 
This progresses even farther in the NT where woman are brought to the forefront and Jesus cares for and features them, and Paul points out that they are equal heirs in Christ. He proclaims in Galatians the unthinkable at that time, "There is neither Jew nor Greek, there is neither slave nor free, there is neither male nor female, for you are all one in Christ Jesus." What an amazing contradiction to the wisdom of the world, both in Paul's time, and in our own. 
3. God has a plan for men 
Boaz is pictured as a type of Christ…a kinsman redeemer. Christ came to rescue us when we could not rescue ourselves. He came to make us pure, to protect us, to guarantee ultimate safety in eternity. 
As men, we are called to give the world an image of this. One of the scariest verses in the entire Bible to me as a husband is in Ephesians chapter 5 "husbands, love your wives as Christ loved the church and gave himself for it." That order could not be taller. I fall so short of that goal, but the command stands. This love can be beautifully pictured in marriage, but it's also the kind of love that is to characterize the relationships of all Christians. John tells us in 1 John "By this we know love, that he laid down his life for us, and we ought to lay down our lives for the brothers." 
4. God has a plan for marriage 
Ruth is a name that means "friendship." 
Wives, you will find your marriage to be easier and more joyful if you find the one you wake up next to every morning to be your best friend. When given the choice, you should desire no other above them to enjoy and lavish the very best you have to offer on. 
Boaz's name means "in him is strength." 
Husbands, you are to be strong for your family, "nourishing and cherishing" your spouse. Ephesians 5:28-30 tells us what God's intention for the husband's role in marriage is to be - "In the same way husbands should love their wives as their own bodies. He who loves his wife loves himself. For no one ever hated his own flesh, but nourishes and cherishes it, just as Christ does the church, because we are members of his body." 
5. God has a plan of salvation 
The only other place Ruth is mentioned outside of the book of Ruth, is in the genealogy of the Lord Jesus Christ in the book of Matthew. Matthew chapter 1 verse 5 says this: "Boaz was the father of Obed by Ruth, and Obed was the father of Jesse, and Jesse was the father of David the king." 
In the NT we see the completion of the line of David in a stable, and we find the culmination of the centuries as a baby is wrapped in swaddling clothes and worshipped by a broad menagerie of the oddest kind. One group of the lowest station of that day, shepherds. Later he was worshipped by a searching group of pagan Gentiles from the east — the wise men. And He was also heralded by a faithful old woman named Anna who was waiting eagerly for the coming Messiah when his parents presented him at the temple. 
The bloodline to the manger makes a line to a cross, to a tomb, to a resurrection, and now to a throne in Heaven as we wait ourselves, as Anna did, for this Messiah to come again and fulfill the Scriptures that foretold him thousands of years ago. Those who ask Him to rescue them and become their kinsman redeemer may now have a 'foretaste of glory divine" as He rules in hearts, in homes, and in His church. 
Regardless of your race, age, gender, or station in life, this offer of salvation and safety is made open today because of God's meticulous, providential planning as He worked through the bereavement, immigration, and marriage of an insignificant Gentile woman named Ruth. 
My desire is that each one of us, like Ruth, will come to Him, surrendering our hope of providing for ourselves spiritually in our own strength, and fall wholly at the feet of the one who, like Boaz, offers us strength for our weakness, riches for our poverty, and love for our loneliness. 
Now go read the whole book and see what you find for yourself.